I hosted our family's annual Halloween party this past Saturday, and of course that meant lots of food. I put out bowls of chips, Cheetos (the "Bag of Bones" kind that are shaped like dismembered skeletons), pretzels, cheese & crackers, a shrimp ring, a meat tray, a veggie tray, and fruit. And then I added the food that I'd actually cooked.
Salsa and guacamole served with black corn chips are a perennial favourite, but I had fun with the presentation this year. I got the idea to use the "puking" pumpkin from a BuzzFeed 7 Terrifying Halloween Food Ideas video. The guacamole was store-bought, but the salsa was the Blender Salsa (page 92, Preserving by the Pint: Quick Seasonal Canning for Small Spaces (Marisa McClellan, 2014)) that I'd canned earlier this season. I did want to try the "Rotten Deviled Eggs" from the same BuzzFeed video, but I ran out of time and just ended up making normal deviled eggs instead. They went over well anyway, and disappeared quickly.
I did a huge amount (at least for me) of baking in the days leading up to the party so that I could serve a wide variety of sweets. I made Applesauce Cake (page 720, Joy of Cooking by Irma S. Rombauer et al, 2006 edition) into cupcakes, which I iced with Quick Brown Butter Icing (page 794, Joy of Cooking). When I was preparing the batter for the cupcakes, I put the margarine (which I had substituted for butter) in the microwave to soften it… And then I forgot about it. I didn't realize I'd left it out of the batter until the cupcakes were already baking in the oven. They turned out okay anyway, but they were a little drier than I'd have liked.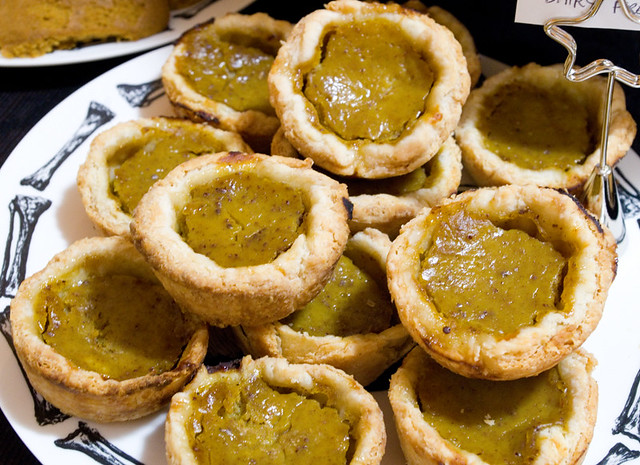 I made pumpkin pie tarts using the Purity Pastry crust (page 73, The All New Purity Cook Book (Elizabeth Driver, 2001)) and Pumpkin or Squash Pie filling (page 686, Joy of Cooking). To make the pie dairy-free, I used canned coconut milk instead of heavy cream or evaporated milk. I wasn't the only person who was going to be at the party who has issues with dairy, so I tried to avoid it whenever possible when cooking this time.
I forgot to include this find when I wrote about thrifting a while back, but I did find a cookie press for about $4.00. I've always loved spritz cookies; they were a favourite when I went to bake sales and bazaars, but I couldn't make them at home since I didn't have the appropriate tools.
I guess most people would associate this kind of cookie with Christmas rather than Halloween, but there's nothing saying they can't be eaten any time, really. I used the Spritz Cookies recipe from page 248 of The Canadian Living Cookbook (Carol Ferguson, 1987), which calls for butter, but I substituted margarine. Not surprisingly, the cookies weren't as buttery as they could have been, but they were still pretty darned good.
Some time ago I asked one of my friends for her all-time favourite cookie recipe, and she said it was Elevator Lady Spice Cookies on page 99 of The I hate to Cook Book (1966 edition). I'd been looking for an excuse to try them out. Given the powdered cloves and ginger in the recipe, these cookies remind me a bit of a ginger snap in flavour, but with a less brittle texture. As a bonus, this recipe doesn't contain any dairy in the first place, so I didn't have to make any substitutions (like many older recipes it uses lard instead of butter as the fat, since it is cheaper).
I made these soft, moist cookies using the Pumpkin Cookies recipe from the Canada Agriculture and Food Museum. To make them dairy-free, I substituted margarine for butter and almond milk for cow's milk. These were a big hit and a number of my friends asked if they could take a few home with them!
I splurged at the dollar store and bought some mini muffin tins so that I could make some miniature Double Chocolate Zucchini Muffins. Since there is milk in the chocolate chips and these wouldn't be the same without them, I didn't even try to make this recipe dairy-free. They're still a fan favourite; out of three dozen mini muffins, I only had three left over after the party, which all mysteriously disappeared first thing the next morning.
At my friends' request, I made up another loaf of Voodoo Bread. I learned from my mistakes and used gloves when I kneaded the bread this time. I still didn't get the well-defined swirl that I was looking for, but it was still a really cool-looking bread.
Not pictured because I forgot, I also had three bread machines going at the same time and made three different kinds of bread, all from Bread Machine: How to Prepare and Bake the Perfect Loaf (Jennie Shapter, 2002):
– Egg-Enriched White Loaf (page 67), where I substituted equal amounts of olive oil for the butter in the original recipe.
– Light Rye and Caraway Bread (page 75), where I substituted canola oil for sunflower oil (I have a friend who is violently allergic to sunflowers), and I omitted skimmed milk powder, simply adding 1 Tbsp water.
– Golden Pumpkin Bread (page 167), where I made a lot of changes because I was missing a bunch of the ingredients called for in the recipe. I substituted whole wheat flour for cornmeal, maple syrup for golden syrup, almond milk for buttermilk, and I omitted the pumpkin seeds. Despite all of the changes, it still turned out great!
Last but not least, I made up a batch of Cookie Monster's Famous Cookie Dough, which is a favourite recipe of mine since my childhood. I used margarine instead of butter, but the recipe calls for either, so it still tastes nigh on identical to what I remember. With my parents' help, my kids rolled out the dough, cut it out, and then painted it with a glaze made of egg whites/yolks (depending on the colour) mixed with food colouring. Even with all of the different dishes that I put out for this party, the Cookie Monster Cookies were my favourite. All of the other food was good, but you can't beat nostalgia.
Another dish I would like to try, but I ran out of time, was Tasty's Peek-A-Boo Pound Cake. Perhaps I could make something similar for Christmas with a different shape inside?