My house is all topsy-turvy at the moment because I'm doing work on the kitchen. (On the kitchen, as well as in, since I seem to work in the kitchen pretty much every day.) I managed to obtain some additional, second-hand cupboards, which means I'll soon have new cupboard and counter space eventually. In the short term, this means that half of the contents of my kitchen are currently in the dining room, so we have to eat in the family room, and the day-to-day mess of the family room is pushed into other rooms… I can't wait to have this mini-reno completed, not just so I can use the expanded kitchen space, but so order is once again returned to my house!
I've been trying not to cook anything super-involved, since prep space is currently at a bare minimum, and to me that means making Dad's Biscuits. My mom picked me up what I think is a Perfect Pie Blender, although it's branded with the President's Choice logo, so it may be a knock-off. Or maybe PC has a deal with Kitchen Innovations, I don't know. I can guarantee you that my mother didn't pay $40 for it, though. Knowing Mom, she probably found it on clearance for $5 or less.
At any rate, the Perfect Pie Blender is far cry in shape and style from the traditional style of pastry blender that I grew up using. The company claims that it will make perfect pastry in sixty seconds, which is an exaggeration if you ask me, but it is definitely faster than my old method. One reason for this is that the blades are sturdier and the updated shape means that I'm not constantly cleaning food out from between the wires. It's generally a more ergonomic design, too. Given that I'd been making pie using the old style blender since I was a kid, I thought I'd have a harder time getting used to a new tool, but I'm surprisingly quite happy with the new blender. I'd recommend it — although I definitely wouldn't recommend spending $40.00 CAD on it like Amazon.ca suggests, especially when you can get it for $12.60 USD on Amazon.com.
The other day I nuked up some IKEA KÖTTBULLAR meatballs while my husband stirred up the ALLEMANSRÄTTEN cream sauce. We're very sophisticated people, don't you know. The original plan was to throw on some oven-baked french fries, but I miscalculated the amount we had left in the freezer, so only the kids got fries. My husband and I ate our meatballs with biscuits instead. I added an apple to our meals because there has to be some kind of fruit or veg with every meal, doesn't there?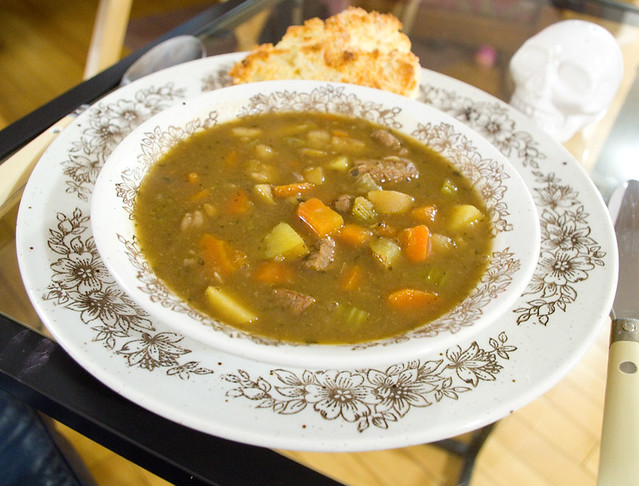 Yesterday the kitchen mini-reno had continued apace and we couldn't even see the dining room table any more, let alone eat at it, so we dined on TV trays in the family room. I made Guinness beef stew based very, very loosely on this recipe, but it was more improvised than not to help me use up what was in the fridge. I still have a surplus of parsnips and celery, which remain fresh and crisp in my fridge, as well as potatoes from my garden, so they had to go in there. To my kids' delight, I served the stew with biscuits for a nice, hearty dinner. I didn't even have to argue with the girls to eat their vegetables even though the stew was more veggies than anything else. That's always a nice change.